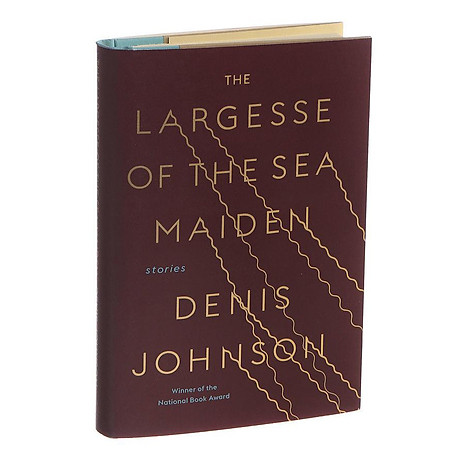 The largesse of the sea maiden stories
Mô tả ngắn:
Công ty phát hành: Penguin Random House, Ngày xuất bản: 2018-01-01 00:00:00, ISBN-13: 9780812988635, Kích thước: 14.5 x 21.3 cm, Loại bìa: Hardcover, ...
Cập nhật giá lần cuối: 09/01/2023 (30 ngày trước)
So sánh giá
Giới thiệu The largesse of the sea maiden stories
The Largesse Of The Sea Maiden: Stories
Twenty-five years after Jesus' Son, a haunting new collection of short stories on mortality and transcendence, from National Book Award winner and two-time Pulitzer Prize finalist Denis Johnson The Largesse of the Sea Maiden is the long-awaited new story collection from Denis Johnson. Written in the luminous prose that made him one of the most beloved and important writers of his generation, this collection finds Johnson in new territory, contemplating the ghosts of the past and the elusive and unexpected ways the mysteries of the universe assert themselves. Finished shortly before Johnson's death, this collection is the last word from a writer whose work will live on for many years to come.
Praise for The Largesse of the Sea Maiden "These four stories rank with Johnson's best work, but the title story, a catalogue of singular moments related by a man who tells us he's passing through life as if it were a masquerade, ranks with the best fiction published by any American writer during this short century."--New York Magazine "Most of these stories are terrific, and two--the first and the last--are out-of-this-world. I say this not out of deference to the recently deceased, but in awe. When Johnson wrote at reckless full force, his sentences and storylines blasted barriers, discovering those odd places where, as one of his narrators here says, 'the Mystery winks at you.' . . .
The Largesse of The Sea Maiden contains the kind of work every writer would like to go out on: fresh, profound and singular. It affirms literature's promise to believers, the gift of eternal voice."--Maureen Corrigan on Fresh Air, NPR "The book in front of us today is one for which many people have waited--as if outside, in the acid rain--a long time. It's the follow-up to Jesus' Son, perhaps the most influential and beloved book of American short stories of the past three decades. . . . The Largesse of the Sea Maiden picks up, to a large extent, where Jesus' Son left off . . . [with] prose vernacular and elevated at the same time. One can say about this book what one narrator says about the poems of a writer he loves: 'They were the real thing, line after line of the real thing.'"--The New York Times
Giá sản phẩm trên Tiki đã bao gồm thuế theo luật hiện hành. Bên cạnh đó, tuỳ vào loại sản phẩm, hình thức và địa chỉ giao hàng mà có thể phát sinh thêm chi phí khác như phí vận chuyển, phụ phí hàng cồng kềnh, thuế nhập khẩu (đối với đơn hàng giao từ nước ngoài có giá trị trên 1 triệu đồng).....
Thông số sản phẩm
| | |
| --- | --- |
| Công ty phát hành | Penguin Random House |
| Ngày xuất bản | 2018-01-01 00:00:00 |
| ISBN-13 | 9780812988635 |
| Kích thước | 14.5 x 21.3 cm |
| Loại bìa | Hardcover |
| Số trang | 363 |